Location
Chase City is ideally located at the rural mid-point of Eastern America's population hubs. About half of the nation's population is located within a 550-mile radius of Chase City, and an 800-mile radius encompasses almost three-fifths of the population. The town is 160 miles from the ports of Norfolk, Virginia Beach, and Hampton Roads. Chase City is the center of arteries connecting Maine to Florida and is 150 miles east of the Roanoke Valley and gateway to Virginia's Southwest.
Recreation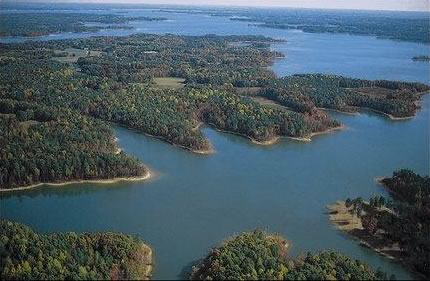 Buggs Island Lake, Virginia's largest lake with 800 miles of shoreline, John H. Kerr Dam, and Lake Gaston are within minutes of Chase City. The Mecklenburg County Country Club, citation fishing, boating, and water sports are enjoyed year round. Camping also is a top recreation enjoyed in the area, and sports such as soccer, football, softball, basketball, tennis, golf, and archery are enjoyed in the parks.
Cultural and historic sites include the MacCallum More Museum and Gardens and nearby Prestwould Plantation. MacCallum More Museum and Gardens is listed on the Virginia Landmarks Register and the National Historic Register and also serves as Chase City's Visitor Center.
A new playground was recently constructed through local contributions and fund raising by Project Playground.
History
Chase City was incorporated in 1873 and named for Salmon P. Chase, United States Chief Justice and Lincoln's Secretary of the Treasury. It was settled by Northerners following the Civil War and became a colony for United Presbyterians. Always a center for commerce and culture, Chase City continues today as a leader in Southside Virginia's tobacco market.
Distinguished leaders in the military, law, medicine and business included Virginia Chief Justice Edward Wren Hudgins and Virginia's first Congressional Medal of Honor winner, Sgt. Earle Gregory. Chase City's Company E was on the front line at Omaha Beach at Normandy in 1944.
Climate
Long warm summers and short mild winters characterize the climate of the Chase City area. The average June temperature is 77.6 degrees F., and the average January temperature is 37.5 degrees F. Rainfall averages 42.25 inches, and the average annual snowfall is six to ten inches.