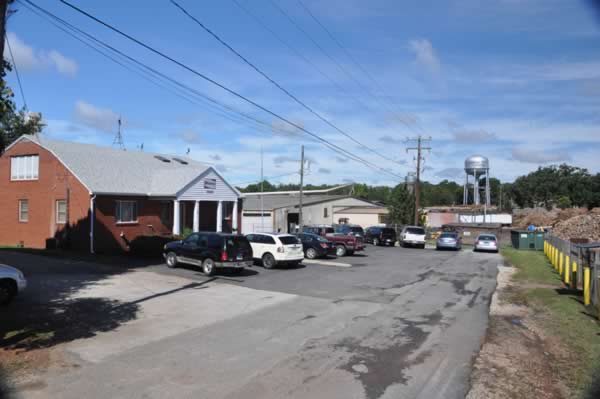 Tobacco, lumber, glass vials, food distribution and an electric cooperative continue as Chase City's leading industries. Chase City is the home of Nipro Glass Americas, Cross Country Distributing, Newell Industries, and Mecklenburg Electric Cooperative. Chase City's Pallet One is the principal manufacturer of industrial pallets on the east coast.
With an abundance of water, sewer, electricity, natural gas and the availability rail, excellent roads and nearby markets makes Chase City a prime industrial location. The Chase City Industrial Development Authority and the Chase City Chamber of Commerce are a leading booster of industrial solicitation.
Workforce
The Town of Chase City has a population of just under 2,500, and is situated within Mecklenburg County with a population of over 30,000. A total work force of 14,828 within the county exemplifies the strong work ethic which leads to high productivity.
Virginia's right to work law protects management as well as employees.
No manufacturer in the Chase City area has ever experienced a work stoppage because of labor dissatisfaction.
Major Chase City Employers
| | | |
| --- | --- | --- |
| INDUSTRY | PRODUCT | EMPLOYMENT |
| Butler Woodcrafters | Cargo Furniture | 36 |
| Cross Country Distributing | Upholstery for Cargo Furniture | 14 |
| Pallet One of Virginia | Pallets | 44 |
| Nipro Glass Americas | Glass Vials | 85 |
| Newell Industries | Mops | 25 |
| OTHER MAJOR CHASE CITY EMPLOYERS | | |
| Chase City Family Practice | Medical Clinic | 20 |
| Chase City Nursing and Rehabilitation | Nursing Home | 140 |
| Chase City Primary Care | Medical Clinic | 10 |
| Mecklenburg Electric Cooperative | Utility Company | 78 |
Transportation
Commercial airlines serve nearby Raleigh-Durham and the Richmond International Airport in Richmond. The Chase City Municipal Airport has fuel, and a 50-foot wide and 3,400-foot long runway.
Eight carriers are among those providing motor freight service. The Buckingham Branch Railroad services the Town of Chase City and the Industrial Park.
Three federal highways, two of which are four-lane, and Interstate 85 are linked to Chase City by three well-maintained Virginia primary highways.
Vist our interactive map to view airport locations, highways, and interstates.